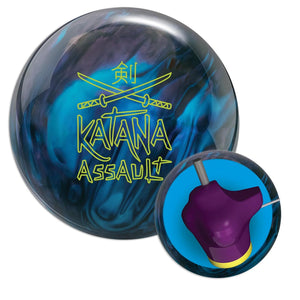 Radical Katana Assault Bowling Ball
Radical Katana Assault Bowling Ball
Color: Smoke/Black/Blue
Coverstock: HK22 - Hyperkinetic Pearl
Weight Block: Katana Assault Asymmetric 
Factory Finish: 500, 1000, 1500 Siaair/Crown Factory Compound
Flare Potential: High
Radius of Gyration (RG): 16lbs - 2.511; 15lbs - 2.501; 14lbs - 2.527
Differential (Diff): 16lbs - 0.045; 15lbs - 0.051; 14lbs - 0.051
Intermediate Differential (Diff): 16lbs - 0.018; 15lbs - 0.020; 14lbs - 0.019
Fragrance: N/A
Additional product information:
The Katana Assault has an Rg of 2.50, a differential of .051, and an intermediate differential of .020. This core yields a quick response to friction and a lot of continuation through the pins. The Katana Assault and the new chemical compound cover known as HK22 Pearl create a new level of backend reaction. This is a Katana on steroids. A monster flip ball, a motion the industry has always craved and now we have brought it to a whole new level.
HK22 - HyperKinetic Pearl, referred to as HK22 PEARL. This is a new chemical compound made available through the hard work of our chemist; it is a whole new ball game when it comes to cover stocks. We used the base formula from the HK-22 resin but enhanced the down lane motion with projection additives and have created the HK22 Pearl.
With our new ball launches, we are featuring new drilling instructions offering a wide variety of ball motion with "no balance hole" options so that bowlers can make a smoother transition into the new ball specifications. Again, this is just another example of why Radical is quickly becoming a leader in bowling ball technology. We call it the #Radical Revolution.
At Radical Bowling Technologies, innovation is our commitment. We deliver high-tech, high-quality products for the betterment of the game ...Wow! That's Radical!
| | |
| --- | --- |
| LANE CONDITION: | Medium/Heavy |
| FACTORY FINISH: | Crown Factory Compound |
| CORE TYPE: | Asymmetrical |
| COVERSTOCK: | Pearl Reactive |
---
We Also Recommend